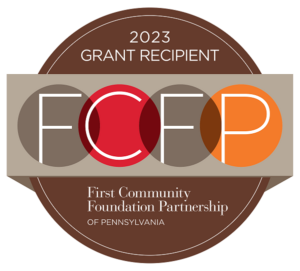 WILLIAMSPORT, Pa. – The James V. Brown Library, 19 E. Fourth St., recently was the recipient of three grants from the First Community Foundation Partnership of Pennsylvania.
The first grant was $8,715 from the Edward D. Neff Fund; the second was $8,408 from the Paul M. Neff Fund; and the third grant was $140 from the Poet Owl Fund. The Poet Owl grant is specifically for nature or natural history-oriented materials, for children and young adults.
Dana Brigandi, Development, Marketing and Public Relations Director at the Library, center; accepts the checks from Jennifer Wilson, President and CEO of First Community Foundation Partnership of Pennsylvania, and Brian Bluth, FCFP board president.
The First Community Foundation Partnership of Pennsylvania works to improve the quality of life in north central Pennsylvania through community leadership, the promotion of philanthropy, the strengthening of nonprofit impact and the perpetual stewardship of charitable assets. FCFP strives to create powerful communities through passionate giving. For more information, visit www.FCFPartnership.org.
The library supports the PA Forward statewide initiative, which believes that when Pennsylvania residents improve their command of five types of literacy – basic, information, civic and social, health and financial – they can achieve greater success as students, parents, employees, consumers, as citizens. Libraries are community centers of information, technology and learning that will fuel educational and economic opportunity for all of our citizens.
The James V. Brown Library is open for browsing and holds pick up from 10 a.m. to 6 p.m. Monday through Friday; and 9 a.m. to 2 p.m. Saturday. To place a hold, visit www.jvbrown.edu or call 570-326-0536 during the library's operating hours. The library also is open for public computer usage and for services such as printing, faxing, copying and scanning. Walk-in passport services are available from 10 a.m. to 4 p.m. Monday through Friday and from 9:30 a.m. to 1 p.m. on Saturdays.
The James V. Brown Library, 19 E. Fourth St., Williamsport, Pa., is the place to go to learn, connect and grow. Founded in June 1907, the library champions the love of reading, opens new doors to lifelong learning, provides a haven to those who seek and ensures the preservation of public library services for future generations. The library has more than 225,000 visitors in a year and circulates a half-million items annually. A member of the Lycoming County Library System, the James V. Brown Library participates in PA Forward, a statewide initiative to promote literacies in our communities to power a better future for everyone.