The James V. Brown Library opened in June 1907 and was a bequest to the city from lumber baron and philanthropist James VanDuzee Brown who died on December 8, 1904, at age 78.  Already a widower with no children, Brown had dreamed for years of giving Williamsport a free, public library. The idea for the library was suggested by his late wife, Carile Brown.
In his will James V. Brown bequeathed $400,000 to the city of Williamsport, and stipulated that $150,000 be used to erect and endow a public library at the corner of Fourth and State Streets for the use of the people of Williamsport and nearby communities.
His wishes also included how the library should be governed, a plan that is still followed today. Management of the library would be under the control of a nine-member board of trustees consisting of: the Mayor of Williamsport; the Rector of Christ Episcopal Church (where Brown was a member), the Superintendent of Williamsport Schools, a representative of Williamsport City Council, and five other representatives of Williamsport or nearby vicinity.
During the following years the Brown Library's services expanded to include branches and reading stations in Montoursville, Newberry and other city locations.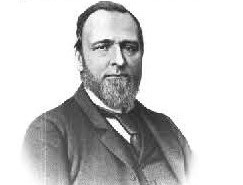 The Brown Library is one of Williamsport's most handsome historic buildings and it still remains true to its 1907 Victorian charm. Even more importantly, the library remains true to its original mission: to enable people to be the best they can be, to grow, to learn and to enjoy their lives while learning!
Now, the library has more than 225,000 visitors in a year and circulates a half-million items annually. A member of the Lycoming County Library System, the James V. Brown Library participates in PA Forward, a statewide initiative to promote literacies in our communities to power a better future for everyone.
Today, the library's mission is to be the place to go to learn, connect, and grow. The library's strategic goals champion the love of reading, open new doors to lifelong learning, provide a haven to those who seek, ensure the preservation of public library services for future generations, and to make James V. Brown Library the place to be.