Applying for a US Passport at the Library
We are an official Passport Acceptance Facility and an authorized photo service.
Passport Services are available for walk-in service – no appointment necessary.
Passport hours are: Monday – Thursday 9:30 am to 5:30 pm, Friday 9:30 am to 3:30 pm Saturday 9:30 am to 1:30 pm.
For more information, please call (570) 326-0536.
All passport applicants must apply in person, regardless of age.
When a child is under 16, both parents must be present and show identification when applying for their child's passport. If one parent is unable to attend, a notarized Statement of Consent (DS-3053) from the absent parent can be used.
If you need your passport urgently, please see: How to Get Your Passport in a Hurry (Currently, life-or-death emergencies only).
Both Passport Card and Passport Book can be used in place of a REAL-ID compliant license for domestic commercial air travel. REAL ID enforcement is postponed until May 7, 2025.
Passport Card – Not for travel by air. Valid for land and sea crossings between the U.S. and Canada, Mexico, Bermuda and the Caribbean only.
Please see the U.S. Department of State website for further information.
Please note: Online applications must be filled out completely and cannot be edited. If a change is needed, you may be asked to fill out a new paper application form at the Library. Please see the sample application here for assistance.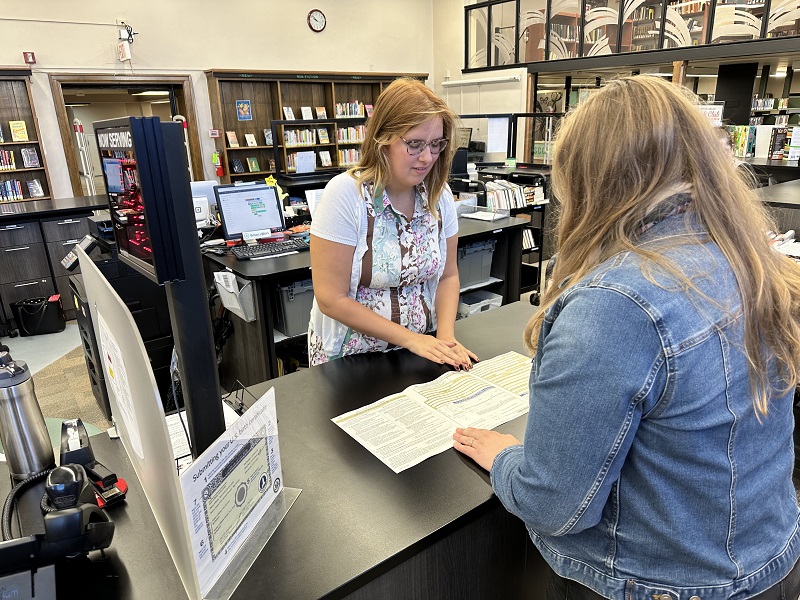 Processing times on passports change regularly. For a list of times directly from the government, please click here.
A
B
C
D
E
F
G
H

1

PASSPORT FEES

2

3

Passport Card Fee
Passport Book Fee
Passport Card Fee
Passport Book Fee

4

Minors (under 16)
Minors (under 16)
Adult
Adult

5

6

$15
$100
$30
$130

7

8

check or money order only
check or money order only
check or money order only
check or money order only

9

10

Passport Fee is paid separately from Facility Fee

11

12

+ $35
+ $35
+ $35
+ $35

13

14

Facility Fee
Facility Fee
Facility Fee
Facility Fee

15

cash / check / money order / cc
cash / check / money order / cc
cash / check / money order / cc
cash / check / money order / cc
Required Documentation – First-Time Applicants
You will need the following:
One (1) passport photo
Brown Library staff will take your passport photo for a $10 fee. Otherwise, see the passport guidelines (Guidelines available here).
Passport Application Forms
You will need the DS-11 form to submit your application. The forms are available at the Library, or you can print them from the Passport Agency website.
Proof of Citizenship
You need either a certified copy of your Birth Certificate issued by the city, county or state of your birth OR a current or previous U.S. Passport OR an original Certificate of Naturalization. As of April 1 2011, birth certificates now need to show the names of both parents. If both parents are not listed, the applicant will need apply for a new birth certificate.
Proof of Identity
As proof of identity adults may show one of the following: a previous U.S. passport, a Naturalization Certificate, a current valid U.S. driver's license, a U.S. state issued identification card, a Military I.D. card, or Government (city, state or federal) issued photo I.D. card.