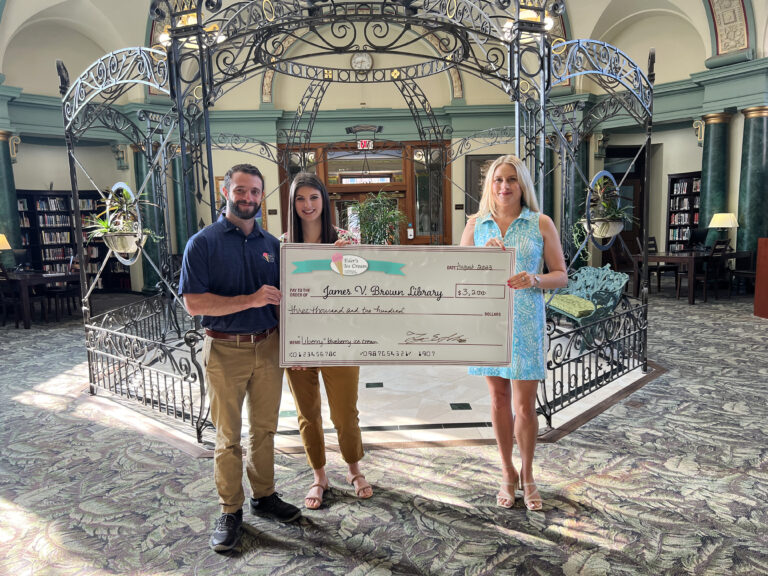 WILLIAMSPORT, Pa. – Eder's Ice Cream, Montoursville, recently presented the James V. Brown Library with the portion of funds from the sale of "Liberry" ice cream fundraiser that took place during the month of July.
The fundraiser featured a blueberry-flavored "Liberry" ice cream. Eder's sold a total of 135 gallons of blueberry ice cream or 3,200 scoops and Eder's owners Tye and Ashley Sheets recently presented the library with a $3,200 check.
"This was such a wonderful way to highlight community organizations and a well-loved family-owned small business," said Dana Brigandi, Development, Marketing and Public Relations Director. "Tye purchased the blueberries from the Kiwanis Club of Williamsport fundraiser and then donated the proceeds from the blueberry-flavored ice cream to the library. It was a win-win for everyone involved and we are so thankful to Tye and Ashley for doing this."
Eder's Ice Cream has been family owned and operated since 1927. All of the ice cream is homemade on the premises
The James V. Brown Library is open for browsing and holds pick up from 10 a.m. to 6 p.m. Monday through Friday; and 9 a.m. to 2 p.m. Saturday. To place a hold, visit www.jvbrown.edu or call 570-326-0536 during the library's operating hours. The library also is open for public computer usage and for services such as printing, faxing, copying and scanning. Walk-in passport services are available from 10 a.m. to 4 p.m. Monday through Friday and from 9:30 a.m. to 1 p.m. on Saturdays.
The James V. Brown Library, 19 E. Fourth St., Williamsport, Pa., is the place to go to learn, connect and grow. Founded in June 1907, the library champions the love of reading, opens new doors to lifelong learning, provides a haven to those who seek and ensures the preservation of public library services for future generations. The library has more than 225,000 visitors in a year and circulates a half-million items annually. A member of the Lycoming County Library System, the James V. Brown Library participates in PA Forward, a statewide initiative to promote literacies in our communities to power a better future for everyone.