Why should I give appreciated stock?
Do you own appreciated stocks? Stock gifts present a great opportunity to support the James V. Brown Library's mission, because your gift is mutually beneficial — we receive the full value of the stock, while you avoid paying capital gains tax.
You can make a gift of stock to the Library Endowment by contacting the Library's CFO for account information at 570-326-0536, ext. 101.
You can give a gift that costs nothing in your lifetime, but can benefit thousands of people in our community, for years to come.
Please contact the Library Development Director for more information about planning a gift to the library by calling 570-327-2957 extension 135.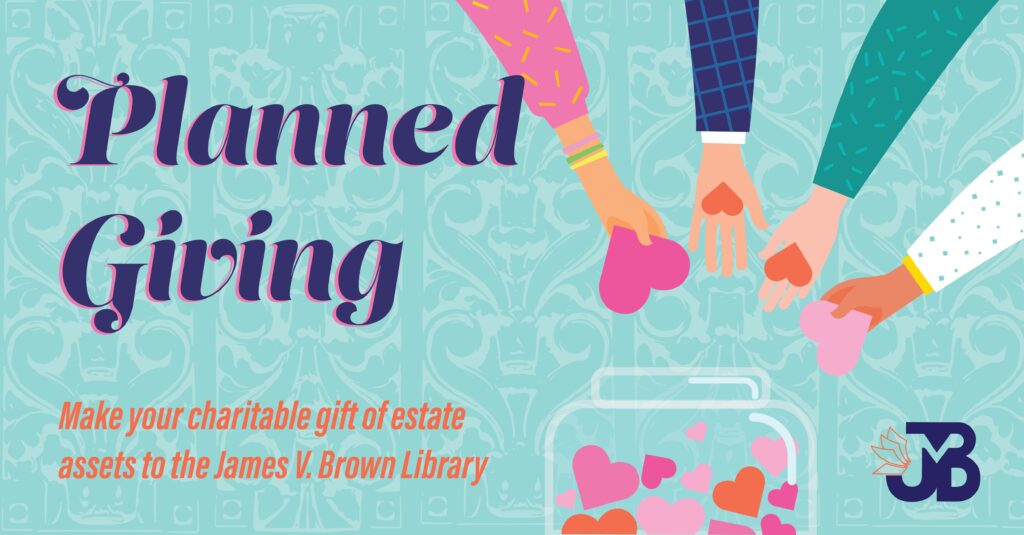 The IRA Charitable Rollover
Donors age 70½ or older are once again eligible to transfer up to $100,000 annually from their IRAs directly to qualified charities–including The James V. Brown Library–without having to pay income taxes on the funds transferred.
For more information about this exciting opportunity to support the Library in a tax-advantaged manner, contact the Development Director.
Donor Advised Funds (DAF) are the fastest-growing giving method to manage charitable donations. Donor Advised Funds allow donors to make a charitable contribution, receive an immediate tax deduction, and then recommend donations to non-profit organizations from their fund over time. Please note that per the Internal Revenue Code, you cannot receive goods, services, or impermissible benefits, like membership benefits, as a result of a DAF gift.