WILLIAMSPORT, Pa. – The James V. Brown Library, 19 E. Fourth St., will celebrate April as National Poetry Month.
Launched by the Academy of American Poets in April 1996, National Poetry Month reminds the public that poets have an integral role to play in our culture and that poetry matters. Over the years, it has become the largest literary celebration in the world, with tens of millions of readers, students, K-12 teachers, librarians, booksellers, literary events curators, publishers, families, and, of course, poets, marking poetry's important place in our lives.
In celebration of the month, Brown Library staff members will share their favorite poems on the Library's Facebook page here https://www.facebook.com/JVBrownLibrary. All poems will be available at the Library's YouTube channel playlist, "Poetry Break," here: https://bit.ly/3bVOLVK. Poetry books also will be on display inside the library, and Poem in Your Pocket poems will be available in the children's area. Poem in Your Pocket Day takes place every year during National Poetry Month; this year it is April 27.
Here are ways you can participate in Poem in Your Pocket Day:
Select a poem and share it on social media using the hashtag #PocketPoem.
Record a video of yourself reading a poem, then share it on a social media platform.
Email a poem to your friends, family, or neighbors.
The Academy of American Poets publish and distribute a new poem every day through Poem-a-Day: https://poets.org/poem-a-day.
The 2023 poster was designed by Marc Brown, creator of the popular Arthur book and PBS television series. The artwork incorporates an excerpted line from the poem "Carrying" by U.S. Poet Laureate Ada Limón. Brown was selected by Scholastic – the global children's publishing, education, and media company – to create the artwork for this year's poster as part of a new National Poetry Month initiative between the publisher and the Academy of American Poets.
The Brown Library is part of a national "Libraries Transform" effort to increase awareness of the changing role of libraries and the ways in which libraries are transforming to meet the information needs of their users.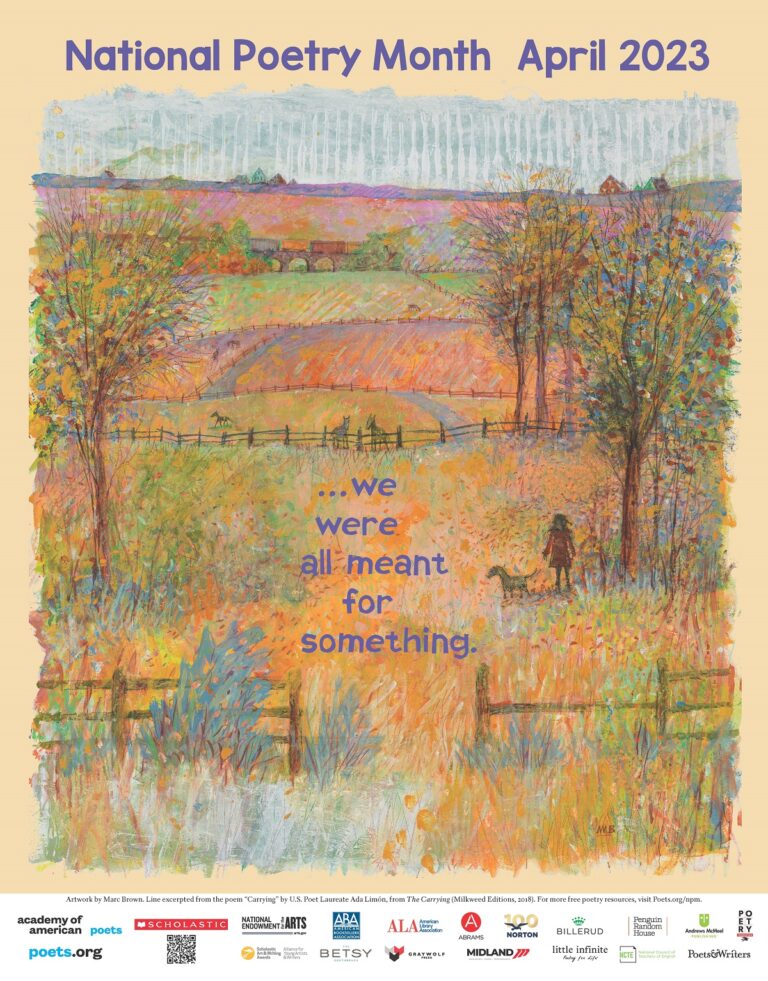 The James V. Brown Library is open for browsing and holds pick up from 10 a.m. to 6 p.m. Monday through Friday; and 9 a.m. to 2 p.m. Saturday. To place a hold, visit www.jvbrown.edu or call 570-326-0536 during the library's operating hours. The library also is open for public computer usage and for services such as printing, faxing, copying and scanning. Walk-in passport services are available from 10 a.m. to 4 p.m. Monday through Friday and from 9:30 a.m. to 1 p.m. on Saturdays.
The James V. Brown Library, 19 E. Fourth St., Williamsport, Pa., is the place to go to learn, connect and grow. Founded in June 1907, the library champions the love of reading, opens new doors to lifelong learning, provides a haven to those who seek and ensures the preservation of public library services for future generations. The library has more than 225,000 visitors in a year and circulates a half-million items annually. A member of the Lycoming County Library System, the James V. Brown Library participates in PA Forward, a statewide initiative to promote literacies in our communities to power a better future for everyone.