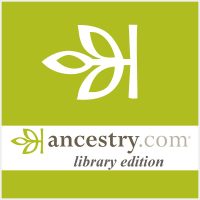 WILLIAMSPORT, Pa. – In an effort to promote local genealogical research, the James V. Brown Library, 19 E. Fourth St., has added a new free online resource through Ancestry Library Edition.
Patrons at the Brown Library or any library within the Lycoming County Library System can explore their family history from their local library's website. Please note that this database is only available to access onsite in each member library. Patrons cannot access it from home or the Bookmobile, Storymobile or the two satellite Link Libraries in Barbours or Pine Creek.
Brown Library patrons can use the library's public access computers to visit Ancestry Library Edition here https://jvbrown.edu/online-resources/ or bring their own device to the library and visit that link while connected to the library's Wi-Fi.
Ancestry Library Edition is a library database that is powered by the popular genealogy research website Ancestry.com. When you use Ancestry Library Edition at your library, you can search through billions of records that are available on Ancestry.com without paying for a personal subscription. Explore your ancestors' birth records, search through cemetery data, and view other users' family trees to discover and uncover your own roots. Since Library Edition is a database, it doesn't support some of the features of a personal subscription such as building your own tree within Ancestry and messaging other users, but it is still a powerful tool in getting started researching your family history.
Library staff can help with learning how to navigate the site, but are not available to conduct research for patrons. Patrons who would like library staff to conduct genealogy or local history research for them can learn more about research services and fees at https://jvbrown.edu/genealogy/.
This is one of the many ways the library supports the PA Forward Initiative through providing information literacy opportunities for learning. When Pennsylvania residents know how to use current technology to improve their education and enhance their skills, they can fully participate in a digital society.
The James V. Brown Library is open for browsing and holds pick up from 10 a.m. to 6 p.m. Monday through Friday; and 9 a.m. to 2 p.m. Saturday. To place a hold, visit www.jvbrown.edu or call 570-326-0536 during the library's operating hours. The library also is open for public computer usage and for services such as printing, faxing, copying and scanning. Walk-in passport services are available from 10 a.m. to 4 p.m. Monday through and from 9:30 a.m. to 1 p.m. on Saturdays.
The James V. Brown Library, 19 E. Fourth St., Williamsport, Pa., is the place to go to learn, connect and grow. Founded in June 1907, the library champions the love of reading, opens new doors to lifelong learning, provides a haven to those who seek and ensures the preservation of public library services for future generations. The library has more than 225,000 visitors in a year and circulates a half-million items annually. A member of the Lycoming County Library System, the James V. Brown Library participates in PA Forward, a statewide initiative to promote literacies in our communities to power a better future for everyone.