Friends of the Library: News
Shades of Brown Newsletter
The Shades Of Brown newsletter is a bimonthly newsletter and is available in physical and digital formats. You can find the most recent issues here.
Friends Facebook Page
Be sure to check out and "Like" the Friends' Facebook page!
Book Review events will resume in October. Please check back for more information.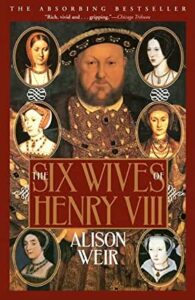 On May 5th the Friends Book Review Committee will host Ms. Marilouise Mazzante who will review The Six Wives of Henry VIII by Alison Weir.
Henry VIII is one of the most famous English monarchs in history. While much has been written about the political achievements and ambitions during his reign, it is his love interests that have captivated audiences for centuries. Weir, a prominent British author and public historian, brings to light the lives of the six women who were married to Henry VIII. It's a detailed, chronological masterpiece examining each of the wives and the role they played in Henry VIII's life, as well as the role of women in society during the time period and how these women fit into that role. This book does an excellent job in separating these remarkable women from the king who made them famous. Finally, Henry VIII's desire for a male heir shows how the lives of these women were created and destroyed but forever immortalized.
Mazzante, a retired Williamsport Area High School social studies teacher, department leader, and athletic coach, earned her Bachelor of Arts Degree at Lycoming College and began teaching in the Williamsport Area School District in 1976. During her years as a teacher, she received the WAHS Teacher of the Year Award, Lycoming College Alumnus of the Year Award, and was selected several years for "Who's Who Among America's Teachers." Presently, Mazzante is an adjunct at Lycoming College serving as a Field Supervisor in the Education Department, and an Educational Consultant at St. John Neumann Regional Academy. In the field of athletics, Mazzante coached Women's Track and Field for WAHS for twenty years; she was inducted into the West Branch Valley Sports Hall of Fame, and she was the first, and currently only, female coach to be inducted into the Pennsylvania Track and Field Hall of Fame. She also received the East Region Women's High School Service Award from the U.S. Women's Track Coaches Association and served as assistant coach on the USA East Region staff for the Olympic Sports Festival Meet.
The review begins at 12:15 p.m. in the Lowry Room of the Welch Family Wing of the James V. Brown Library with a Q&A from 12:45 p.m. – 1:00 p.m. Reservations are required due to space considerations.  Please call the library at 570-326-0536 or use the library's online reservation calendar (calendar.jvbrown.edu) before 3:00 p.m. on Wednesday, May 3rd. Parking is available in the public lot off Market Street, adjacent to the Welch Wing.