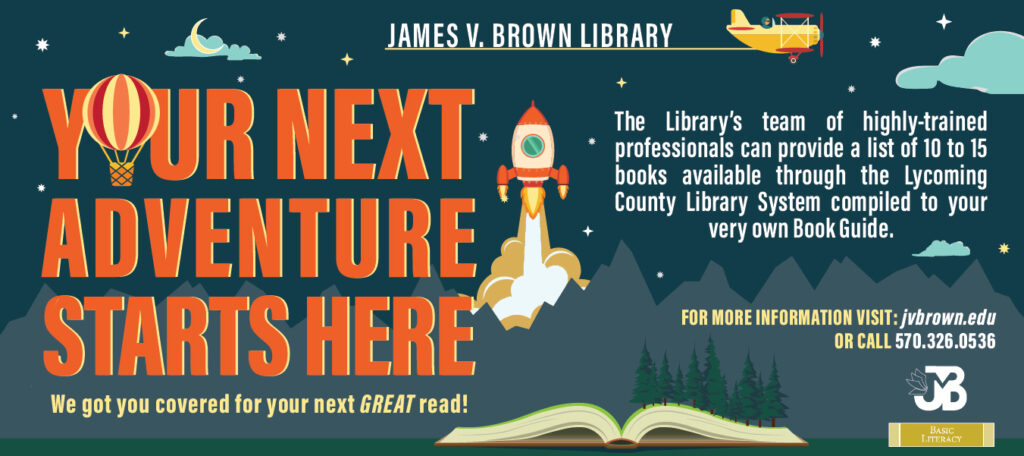 WILLIAMSPORT, Pa. – "Your Next Adventure Starts Here" is the slogan of the popular readers' advisory service at the James V. Brown Library that is designed to help readers fall in love with a new book.
Library patrons seeking book recommendations can fill out an online questionnaire about reading habits, likes and dislikes. When completed, the library's team of highly-trained library professionals will provide a list of 10 to 15 books available through the Lycoming County Library System compiled into your very own Book Guide.
The questionnaire can be found in the "Using the Library" section of the website (www.jvbrown.edu) and selecting "Book Suggestions." The "Personalized Reading List" form also is available at the Help Desk at the library, 19 E. Fourth St.
School-age children in the Accelerated Reader program can also find books by using the AR Book Finder site available through the "Youth" tab on the library's website, where you'll also find apps and other learning resources. No matter what your age, your next adventure can start at the library!
Feel free to call our staff for suggestions and recommendations at 570-326-0536.
The Brown Library is part of a national "Libraries Transform" effort to increase awareness of the changing role of libraries and the ways in which libraries are transforming to meet the information needs of their users.
For your safety, all returned materials are quarantined for three days.
The James V. Brown Library is open for browsing and holds pick up from 10 a.m. to 6 p.m. Monday through Friday; and 9 a.m. to 2 p.m. Saturday. To place a hold, visit www.jvbrown.edu or call 570-326-0536 during the library's operating hours. The library also is open for public computer usage and for services such as printing, faxing, copying and scanning. Walk-in passport services are now available.
The James V. Brown Library, 19 E. Fourth St., Williamsport, Pa., is the place to go to learn, connect and grow. Founded in June 1907, the library champions the love of reading, opens new doors to lifelong learning, provides a haven to those who seek and ensures the preservation of public library services for future generations. The library has more than 225,000 visitors in a year and circulates a half-million items annually. A member of the Lycoming County Library System, the James V. Brown Library participates in PA Forward, a statewide initiative to promote literacies in our communities to power a better future for everyone.