WILLIAMSPORT, Pa. – The James V. Brown Library, 19 E. Fourth St., will participate in the 23rd Annual Victorian Christmas Tour of Historic Buildings on Saturday, Nov. 19.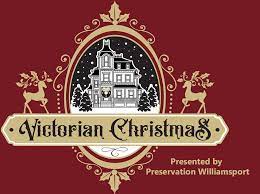 This year's theme is "Music in the Victorian Era," and to celebrate, the Library's Moltz Rotunda Reading Room will be open from 9 a.m. to 2 p.m. and a small ensemble from the Repasz Band will perform at 12 p.m.
The library will have Victorian-themed books on display, along with light refreshments. Public restrooms and phone charging stations are available.
This program is one of the many ways the Brown Library supports the PA Forward Initiative by providing civic and social literacy opportunities for learning.
The James V. Brown Library is open for browsing and holds pick up from 10 a.m. to 6 p.m. Monday through Friday; and 9 a.m. to 2 p.m. Saturday. To place a hold, visit www.jvbrown.edu or call 570-326-0536 during the library's operating hours. The library also is open for public computer usage and for services such as printing, faxing, copying and scanning. Walk-in passport services are now available.
The James V. Brown Library, 19 E. Fourth St., Williamsport, Pa., is the place to go to learn, connect and grow. Founded in June 1907, the library champions the love of reading, opens new doors to lifelong learning, provides a haven to those who seek and ensures the preservation of public library services for future generations. The library has more than 225,000 visitors in a year and circulates a half-million items annually. A member of the Lycoming County Library System, the James V. Brown Library participates in PA Forward, a statewide initiative to promote literacies in our communities to power a better future for everyone.