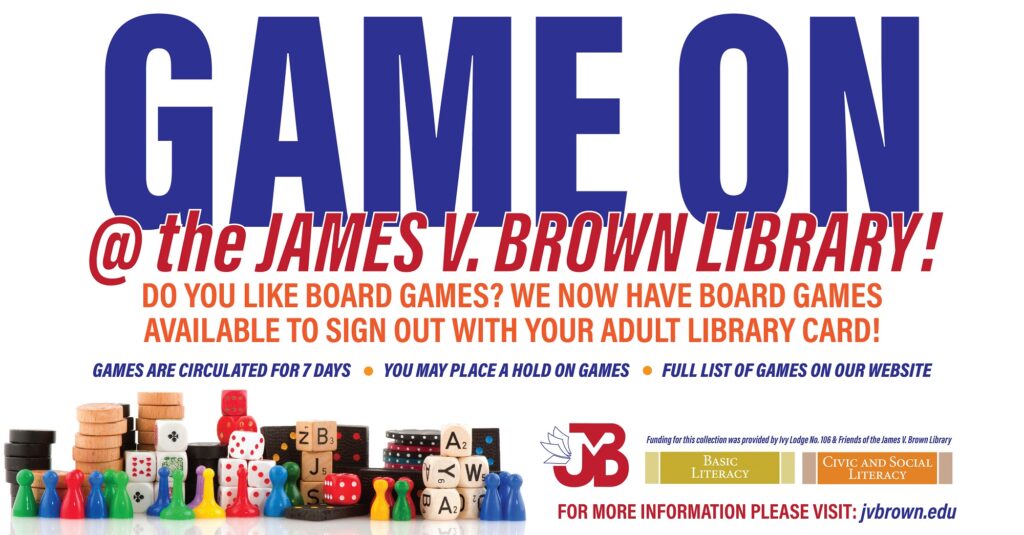 The Library has created a board and card game collection for checkout.
The collection includes more than 100 games that can be checked out for one week at a time with an adult library card. Replacement costs will accrue for missing pieces.
The board game collection was initially funded through a grant from the Friends of the James V. Brown Library and Ivy Lodge 106, and donations from the American Rescue Workers.
Games include:
5 Second Rule
7 Wonders (2 copies)
100 Classic Games Collection
Apples to Apples
Articulate!
Azul
Battleship
Bamboozled
Beat That!
Betcha Can't: Could Ya Would Ya – The Game of One-Upping
Betrayal at House on the Hill
Big Bang Theory: Ultimate Genius Party Game
Bluey: Shadowlands Board Game
Brain Waves: The Brilliant Boar
Bunco
Candy Land
Cards Against Humanity, family edition (2 copies)
Cat World
Catan: Trade Build Settle
Catan: Traders & Barbarians
Catan: Traders & Barbarians Expansion
Chameleon
Choose Your Own Adventure: War with the Evil Power Master
Chutes and Ladders
Clue
Codenames
Constellation Connect!
Coup
Cranium
Deluxe Canasta Caliente
Dixit
Dixit Journey
Don't Look at Me
Dutch Blitz card game
Escape Room The Game: Asylum
Escape Room The Game: 3 adventures
Exploding Kittens
Farkle
Five Crowns
Friday
Garage Band the Game
Gingerbread House
Gloomhaven
Golden Girls: Any Way You Slice It
Great States!
Headbanz Headrush
Herbalism
Hope City
I Hate Zombies
I Want the Truth!
Jumanji
Latice Hawai'i
Left Center Right dice game
Llamas Unleashed
Kingdomino
MacGyver: The Escape Room
Marvel Splendor
Mastermind
Maury Povich: You Are Not the Father
MetroX
Monopoly Cheaters Edition
Munchkin Game Changers
Munchkin Lite
Munchkin Magical Mess
Mysterium
Nab-It!
Octopus' Garden
Oregon Trail Hunt for Food card game
Othello Classic
Outnumbered!
Pandemic (2 copies)
Patchwork Americana Edition
Phase 10
Pictionary Air
Pictionary Man
Pie Face Cannon!
Poopocalypse
Poopsie Slime Surprise
Qwirkle
Risk (2 copies)
Rummikub
Samurai Gardener     
Scarabya
Scythe
Sequence
Sheriff of Nottingham 2nd Edition
Sherlock Holmes Consulting Detective: The Baker Street Irregulars
Similo Myths
Skip-bo
Space Freaks: Arena of Annihilation
Spoons
Stella Dixit Universe
Stratego Original
Sugar Blast
Superfight
Sushi Go
Sushi Go Party
Tenzi Party pack, 77 ways to play Tenzi
Texas Hold'Em Poker Set
The Castles of Burgundy
The Grizzled
The Walking Dead Trivia Game
This That & Everything
Ticket to Ride: Days of Wonder
Ticket to Ride France + Old west
Ticket to Ride: First Journey
Tiny Epic Galaxies
Top Gun strategy game
Trash Pandas
Trekking the World
Trial by Trolley
Trivial Pursuit, World of Harry Potter ultimate edition
Twenty-Four
Uno
Villainous
Wavelength
We're Not Really Strangers
Wingspan
Yahtzee
Zoomania