The James V Brown Library Presents:
The 2023 Author Gala featured Marie Benedict and raised more than $30,000 to support the library. Check back later for the announcement of the 2024 featured author!
This exciting event is the library's main fundraiser each year. Typically held in the fall, the Gala is an evening full of fun and laughter for a good cause – your public library! The Gala funds support the library's mission of being the place to go to learn, connect and grow, and help the library offer programming for all ages.
Have an idea for an upcoming Author?
2023 – Marie Benedict
2022 – Elin Hilderbrand
2021 – David Baldacci
2020 – (No gala due to Covid)
2019 – Lisa See
2018 – Dennis Lehane
2017 – Louise Penny
2016 – Chris Bohjalian
2015 – Ruth Reichl
2014 – Jennifer Weiner
2013 – Lisa Scottoline
2012 – Adriana Trigiani
2011 – Snigda Prakash
2010 – Michael Buckley
2009 – Toni Murden McClure
2008 – Marisa de Los Santos
2007 – Jon and Jona Van Zyle
2006 – (No gala, capital campaign year)
2005 – Adriana Trigiani
2004 – Kathy Reichs
2003 – F. Paul Wilson
2002 – Robert Smith
Tickets are required for this event and may be purchased by calling the library at 570-326-0536.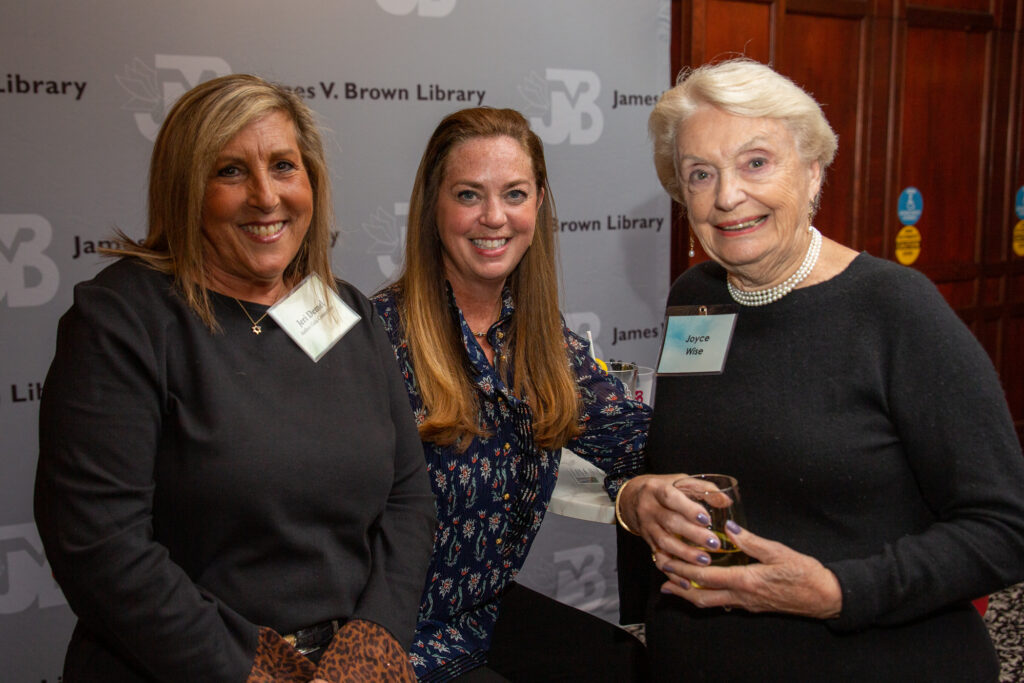 2023 Author Gala Sponsors
Speaker sponsor
Friends of the James V. Brown Library
Author Welcome Reception sponsor
Marshall D. Welch III and Family
Centerpiece sponsors
135 Flats – Trisha Gibbons Marty
Stephanie T. Calder
Comfort Keepers
Jane Darrow
Martha Gandy
Jersey Shore State Bank
Ruth U. Rees
UPMC
Wegmans Food Market, Inc.
Dessert sponsors
Nicoya Catino
Pennsylvania College of Technology
Annmarie Phillips
Patron sponsors
Donna Biehl
C&N Bank
John and Cynthia Brindger
Brette Confair
John M. and Linda D. Confer
Marlin R. and Brenda L. Cromley
Fulton Bank
Gephart Moyer Financial Advisors
Gloria and Charles Greevy III
Rick and Sara Mirabito
Dean and Ann Muller
Margaret and John F. Piper Jr.
Margie Shaw
Book sponsors
Karen Blaschak
Maria Casale
Christine Johnson
Denise Reis
Susquehanna Law Group, Inc.
Lois E. Williams
2023 Author Gala Gifts in Kind
Alabaster Coffee Roaster and Tea Co.
Avu Goldsmiths
Backhouse Cafe
Ronald E. Beach
The Beauti Loft by Rikki
Beth Moser Designs
Bloomsburg Theatre Ensemble
Bonner Sports, Inc.
Dana Brigandi
Buzzsaw Coffee
Stephanie T. Calder
Kristin Caringi
Nick Caringi
Clyde Peeling's Reptiland
David A. Coates
Community Arts Center
Corning Museum of Glass
Brenda L. Cromley
Don Waltman Market House
Equinox
William Geyer
Gold Leaf Frame Shoppe, LLC
Healthy Touch Day Spa and Salon
The Hideaway Facial Studio
In-Balance
John Ryan Brewery
The Junior League of Williamsport
Kitchen Repose
Lewisburg Children's Museum
Carol A. Lady
Andria Larson
Longwood Gardens
Lost River Caverns
Paul E. Mach
Jamie Mahoney
Rick Mahonski Goldsmith
Magnolias Salon
Johnny Meyer
Suzette Meyer
Museum of the American Revolution
New Trail Brewing Co.
Sharon O'Malley
Patinaz
Diane Pelesh
Penguin Random House
Pennsylvania College of Technology
Louise Penny
Annmarie Phillips
Preservation Williamsport
Purity Candy Company
Melissa Rackish
Stephanie Radulski
Phyllis W. Reynolds
Robert M. Sides Family Music Center
Rosko's Brew House
Rust and Shine
Salon Simone
Sheetz
Janet Sherman
Tag's Family-Style Take Out
Therapy Brewing
Tony's Delicatessen & Fresh Meats
Adriana Trigiani
Tröegs Independent Brewing
Whitesel Stained Glass
Whitnie Rae Photography
Lois E. Williams
Williamsport/Lycoming Chamber of Commerce
Wine and Design
Jeanne S. Yaggi
2023 Author Gala Committee
Stephanie Calder, chair
Brette Confair
Brenda Cromley
Jeri Demel
Gloria Greevy
Dennis Keith
Andria Larson
Diane Pelesh
Annmarie Phillips
Melissa Rackish
Stephanie Radulski
Ruth Rees
Tricia Shipman
Melissa Starkey
2023 Author Gala Auction Winners
Online Auction Winners
| | |
| --- | --- |
| Rick Mahonski custom 14K gold Library pendant | Jason Reed |
| Stay at Club Wyndham West Winds at Myrtle Beach | Maria Casale |
| Birch Cottage Keuka Lakeside Weekend Vacation | Melissa Starkey |
| Kayaking Starter Kit | Sherrie Miller |
| iPad with Cover | Diane Pelesh |
| Night on the Town package | Lois Williams |
| Pamper Yourself Package | Jennifer Wilson |
| Book Club Lunch | MaryCaye Beltz |
| Baby books and learning activities bundle | Christine Kavanagh |
| Early-Childhood Books and Experiences Package | Allison Grove |
| Dine on us package | Barbara Wascher |
| Framed Print: "Sentinel" by Ron Beach | Janice Shoemaker |
| Autographed baseball from Hall of Famer Ryne Sandberg | Pat Kelley |
| Beach package | Lois Williams |
| Journal making class by Stone Root Studio for 4 | Andria Larson |
| Chef Paul Mach wine/beer tasting at home | Nicoya Catino |
| Health and Wellness Package | Sandy Person |
| Vera Bradley Batik Leaves Set | Allison Grove |
| Itty Bitty Blazes Candle Basket | Vicki Haussmann |
| Treat Yourself Package | Sue Kelley |
| Victorian Christmas Home Tour Tickets | Lois Williams |
| Travel/Experiences Package | Rebecca Fought |
| Hit the Green package | Stephanie Calder |
| Tennis Package | Emilie Ertel |
| Whitesel Stained Glass | Paula Robinson |
| Family Photography Package | Lauren Schuman |
| Kate Spade Top Zip Tote Bag | Barbara Wascher |
| Learn the Ukulele! | Jeffery Doty |
| LEGO Fun Package | Brian Brooking |
| Fall Basket | Kathryn Marcello |
| Pickleball and Disc Golf Bundle | Renee Carey |
| Gala Anniversary Bundle | Melissa Starkey |
| Tarot Journey Package | Dorothy Gerring |
| Into White Mixed Media on Canvas | Jeri Demel |
| Pieced Quilt Wall Hanging | Andrea Ryder |
| Troegs Tour and Brewery Swag Basket | Brette Confair |
| Cook and Book Bundle | Gail Kulp |
| Avu Goldsmith and custom handcrafted wooden box | Dean Muller |
| Bookish Swag Bag | Jamie Wieder |
| Brainy Book and STEM Bundle | Terrie Campana |
| Humor Books and Coffee | Jeffery Doty |
| Tween Art Activities and Books Bundle | Elizabeth Sauers |
| Anne Meyer Serving Bowl #1 of 3 | MaryCaye Beltz |
| Anne Meyer Serving Bowl #2 of 3 | Dorothy Gerring |
| Anne Meyer Serving Bowl #3 of 3 | Barbara Wascher |
Ticket Auction Winners
| | |
| --- | --- |
| Simply Sterling Patinaz set | Sharon Colt |
| Heather Terrell YA book basket | Betty Holcomb |
| Dooney and Burke purse | Shelby Weber |
| Dog Lovers Basket | Sue Dinsmore |
| Glenn Wininger painting | Maria Casale |
| Backhouse Café Gift Basket | Maria Casale |
| Kindle for Kids with case | Debbie Hurwitz |
| Early childhood book basket | Pat Kelley |
| Door prize | Kerry Kaar |