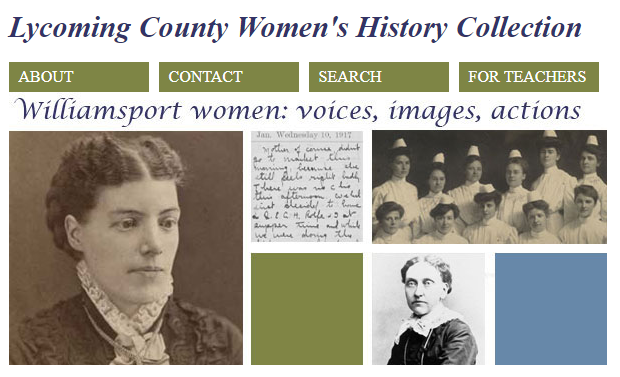 March is Women's History Month and the James V. Brown Library, 19 E. Fourth St., has resources available to aid in your research.
This month of commemorates and encourages the study, observance and celebration of the vital role of women in American history. The National Archives has a great selection of letters, photographs, film and other sources at https://www.archives.gov/news/topics/womens-history.
The James V. Brown Library also has a great selection of online resources for local history at https://jvbrown.edu/online-resources/, including the Lycoming County Women's History Collective.
The Lycoming County Women's History Collection is an online archive of source material relating to the history of women in Lycoming County, Pennsylvania. This collection, all from local archives, includes photographs, correspondence, minute books, diaries, scrapbooks, recipe books, newspaper stories, and much more. The documents highlight the history of local women in volunteer and reform organizations, education, the arts, the workplace, and in their private lives. The majority of the materials are from the time period 1850-1970.
The project is a cooperative effort of Lycoming College Snowden Library, the James V. Brown Library, the Lycoming County Historical Society, and Pennsylvania College of Technology Madigan Library. Other partners include the Williamsport Home, the Williamsport Hospital School of Nursing Alumni Association, and the YWCA of Northcentral PA.
There also are more than 2,000 local historical photographs, drawings and images of Lycoming County on the POWER Library digital collections at http://digitalcollections.powerlibrary.org/cdm/landingpage/collection/pjvbl-archi.
The James V. Brown Library is open from 9 a.m. to 8 p.m. Monday through Friday; noon to 5 p.m. Saturday and Sunday; and 24/7 at www.jvbrown.edu.